Most of us have definitely experienced some form of hair fall or hair loss before, and some of us may have even experienced baldness. I am sure that this is a significant source of distress for anyone who has ever suffered from this. Hence, we would have definitely looked for and may have even tried different forms of hair fall and scalp treatments. However, such treatments do not usually come cheap and if we choose to go to hair care specialists in professional salons, the treatments and products used there will almost definitely range in the thousands of dollars. Furthermore, hair loss treatments typically cannot be done in one session, and multiple follow ups are necessary, making the price of such treatments even higher than one would expect. Hence, some may choose to consider at home treatments instead, through the use of different hair fall shampoos or hair care products, such as hair tonics and hair essences.
Causes of hair fall
There are multiple causes of hair fall, some of the most common one includes hormone changes, stress, medical conditions, medications and even lifestyle choices. We will go through some of these in detail below.
Hormonal changes: Some women may experience hair loss during or after pregnancy and there can be multiple reasons for this. One of which could be due to hormonal shift. This happens in the first trimester, where the body shifts more hormones to support the growing fetus. This hormonal imbalance can then cause hair loss in the mother. Another reason could be due to rising levels of estrogen. During pregnancy, estrogen levels rise, which can drastically affect hair growth, causing more hair to fall out than usual. However, these types of hair loss due to hormonal changes cannot be seen immediately; instead it can take up to four months to notice any significant differences. In addition, health issues can arise during pregnancy which can affect hair growth and cause hair loss. For example, thyroid problems and iron deficiency. As for post partum hair loss, this is due to falling estrogen levels and this should not be a cause for concern and should resolve itself over time.
Stress: Prolonged periods of stress can cause hair loss, although the hair loss usually occurs three months after the traumatic event happens. This is because large amounts of stress pushes the hair into the 'resting phase'. Hence a couple months after the traumatic incident, hair can fall out even for young women, just from simple brushing.
Source: https://www.heart.org/-/media/images/healthy-living/healthy-lifestyle/stressed_out_man_laptop_headache.jpg?la=en&hash=36880B2F82A1D4E127F260D6EEC098942605E797
Medical Conditions: there are some medical conditions that can cause hair fall. For example, diabetes.  The high blood sugar levels in the body can damage tissues and blood vessels in the body. This can cause certain parts of the body to receive less oxygen and nutrients than others, which can cause hair fall. Another disease can be Trichotillomania. This is a mental disorder wherein one has the recurrent, irresistible urge to pull their own hair out. Lastly, another disease can be Alopecia Areata. This is an autoimmune disease where the immune system attacks the hair follicles, causing hair to fall out.
Medications: Certain types of medication can have hair loss as a side effect. Examples of such medication includes acne medication which contains vitamin A, also known as Retinoids, certain types of antibiotics, drugs which can suppress the immune system, non-steroid anti-inflammatory drugs (NSAID), and even high blood pressure medication such as beta blockers and diuretics. Chemotherapy drugs can also cause hair loss. This is because chemotherapy drugs kill cancer cells in the body, but at the same time they can kill healthy cells as well, including hair cells.
Lifestyle Choices: Dying and bleaching hair can cause hair to become weak and brittle due to the harsh chemicals present in hair dye. Overtime this can cause hair to fall out. Overusing the hair dryer and hair straighteners can also have this effect due to heat damage to the hair. Additionally, certain tight hairstyles can also pull the hair line back, or cause hair loss.
Usage of Hair tonics in Singapore
I am sure for those of us who chose not to go to the salons for hair loss or scalp treatment would have heard of the benefits and miracles of using hair tonic instead. To put it plainly, hair tonic helps to make hair healthier. Hair tonic is used by barbers and when applied to wet hair, it helps make hair smoother and silkier, which makes it easier to cut. Normal people can use hair tonic in their own homes too, in which case hair tonic can help to moisturise hair, keep the scalp healthy, reduce the number of split ends and damaged hair, and helps with dandruff control as well.
This is because hair tonics helps to replenish the moisture lost from your hair and when this problem is address and the hair gets the necessary moisture again, this can help reduce dandruff, itchiness as well as help you receive an overall healthier scalp. This additional moisture also helps bring more nutrients to the hair follicles, which is essential for hair growth as well as collagen production. Hence this can help promote hair growth if the cause of your hair loss or hair damage was due to the hair not receiving enough moisture or nutrients before.
Additionally, if you are able to use the hair tonic to assist you in doing scalp massages, this can further promote and stimulate circulation, which can bring even more nutrients to your scalp and hair follicles. This can further stimulate hair growth. Regular scalp massages can help improve the overall health of your scalp and hair as well. Hence, while hair tonics alone can help in promoting hair growth, pairing it with scalp massages and further improve its effects.
With the rise and growing popularity of hair tonics in Singapore again, let's now take a look at some of the more popular hair tonics that are available in Singapore.
SMIB Coral Calcium Hair Essence
First up would be the SMIB anti hair loss coral calcium hair essence. In a quick google search of the up and coming popular hair tonics in Singapore, we look at SMIB. SMIB is a Korean hair care brand and as we know, Korean beauty products are some of the top in the world, which is what already makes this product so noteworthy and allows it to stand out so much.
According to their website, their hair care products are the top seller in Korea, and they have already sold a million sets in Korea alone. The reason why they focus so much on calcium is because through their research, it has been shown that calcium is a 'very important signalling factor' that helps to maintain the integrity and function of the skin, and it is necessary in maintaining the skin's function. Hence, in order for one to have healthy skin, calcium concentration in the skin must be adequate.
If one is able to have sufficient calcium in their skin, this can help in controlling the scalp balance, relieving itch from the scalp, has anti-inflammatory properties to help the scalp and is able to promote healthy hair. Hence, their hair essence, as written on their website, is able to 'reduce hair loss, ease itchiness  and calm irritated scalp with coral calcium'. The hair essence contains high purity coral calcium, which helps in promoting a functional and healthy scalp and ensures that you are able to have a clean and healthy scalp. This product can be bought for $39.90 for a limited time, with the regular price being $49.90.
The website also has multiple reviews of their products. This product is very suitable for use by both men and women and so there are reviews that showcase the effectiveness and usefulness of their products on both genders. Overall, people are very satisfied with their products, with most saying that after using them, their hair feels fresh, clean and refreshing. Multiple reviews have also noted that their products are very 'cooling' on their scalp.
The products have also helped them revitalise their hair, allowing it to revive the shine and thickness of their hair before it was damaged. Additionally, the use of the brand's own hair massager helps improve the absorbency and effectiveness of the hair essence, making it even more potent and useful. There were also photos of people's before and after they started using the product, which further proves that their products are effective.
However, it is actually very difficult to find any negative reviews on this product, as mentioned by this blogger as well, the effects seem too good, in fact it might even be too good to be true. And the only apparent downside to this product seems to be the fact that sulfates are used, and it is used to remove the oil on the scalp, which may explain why multiple customers feel that their scalp feels very clean after using their products.
However, there is also a growing demand for sulfate free shampoos as people become more knowledgeable on the harmful effects of having sulfate in their hair products. Sulfate in hair products can cause hair to be stripped of its natural moisture which leaves the hair dry and unhealthy. Hence, some people may not be very comfortable using their products as it contains sulfate. Additionally, people who have sensitive scalp or who may have an allergy to sulfate products will also be unable to use this product.
Shiseido Professional The Hair Care Adenovital Advanced Scalp Essence
Next, we will look at another product, Shiseido Professional The Hair Care Adenovital Advanced Scalp Essence. This product was featured on multiple reviews and compilations of top hair tonic articles and blog posts in Singapore, so we ought to look at this hair tonic as well.
According to the Shiseido website, 'Adenovital' is Shiseido's technology that 'focuses on the six mechanism within the hair root that contribute to anti hair loss'. Adenovital contains Adenosine, Ononis extract, AP Stimulator and AG complex II. Adenosine is Shiseido's key and original ingredient, which helps to stimulate the production of growth factors that are essential to the development of strong and healthy hair. The Ononis extract helps to repair the cuticles, which makes hair stronger and more resistance to damage. The AP stimulator and AG Complex II are moisturising ingredients, with the former helping to moisturise the scalp while creating a 'healthy scalp environment' to promote healthy and beautiful hair growth, while AG Complex II moisturises and improves the condition of the scalp.
The AP Stimulator is derived from apricots while the AG Complex is a compound made from multiple natural herbs such as Japanese pepper extract and Lingzhi extract. Hence, Adenovital helps prevent hair loss by energising the hair. This helps to improve the condition of the scalp, in order to allow for effective penetration and affective absorbency of the products and its nutrients into the scalp and hair.
This makes hair stronger and less prone to breakage. Afterwards, it provides a deep energy recharge, where the scalp conditions are optimised and perfected by removing impurities, dirt and oil in order to allow hair to develop and grow in optimal conditions. Lastly, there is a hair energy boost which is a three step treatment process designed to fully maximise the effects of Adenovital.
According to this website as well, this product helps control natural oil and sebum production without removing the hair's natural moisture, aids in controlling and preventing hair fall due to its moisturising properties, and it comes with a nice cooling sensation, making it suitable for Singapore's hot and humid tropical climate.
However, it was quite difficult to find reviews for this product. After looking through google, it could probably be due to the fact that this product is only mainly used in salons instead of at home.
Additionally, this product is rather pricey and the price also varies depending on which website you source your products from. For example, Shopee sells it for $99, Lazada sells it for $112, while other websites sell it for a $150.
Hence, it is difficult to find the official product and it is also hard to determine which websites sell the legitimate product or a fake imitation. Furthermore, their hair essence, as mentioned and shown above, is hardly natural. The technology that goes behind it and most of the ingredients that they use are in fact chemicals or manufactured in the labs, which means that there may be a higher likelihood of side effects or irritation if one were to use their products.
L'Oreal Professional Serioxyl Black & Full Tonic
Next, we will discuss another product known as the L'Oreal Professional Serioxyl Black & Full Tonic. A quick google search reveals that this is a very popular product, as there are multiple online websites including classic ones such as shoppee, Lazada and QOO10 selling this product, with high ratings ranging about 4.7 to 4.8, showing that this seems to be a useful and effective product.
According to multiple websites which discusses and compiles popular hair tonics, this hair tonic was developed mainly to address the hair loss and greying hair issues that come with age. As we all know, as one ages, one's hair will weaken and they will experience a greater amount of hair falls. Their hair colour will also fade, become a grey or white colour. This product was designed to curb and address this issue.
This hair tonic contains natural herbal ingredients such as Black Shou wu and incell, these herbs help to promote healthy hair growth and ensures that hair remains strong. Black shou wu is also able to supply nutrients to the scalp and hair follicles. These ingredients also help darken hair by increasing the amount of dark pigments in one's hair, and also prevents hair loss.
Additionally, this product helps to strengthen hair follicles, which can prevent more hair from falling out! According to this website, this hair tonic also helps to reduce hair loss due to other active ingredients such as Aminexil and THSG. The hair tonic can also prevent the growth of grey hairs due to the natural black pigments present in the herbs they use, and strengthens hair to prevent breakage. Another added advantage is that this product was designed for use by Asians. Hence you can be rest assured knowing that this product is likely much more suitable for use by you, as compared to other products out there that did not take the differences between Asian and American or European hair into comparison.
As is the case with most e commerce websites, different online shops will list different prices. However, one thing that is consistent is the fact that this product is generally priced within the range of $40 to $50. Hence it will require some effort to figure out which is the legitimate product and which is a fake imitation.
And similar to most hair tonics we have discussed earlier, reviews are quite difficult to find, and after looking through the official website and not being able to find the product, it could be the case that this hair tonic is a slightly older version of their hair tonic series, or it could be for a similar reason above, that this product is only mainly used in hair salons, hence there is not much documentation of how effective it is when people use it on their own.
Kamimoto Higher Strength Hair Tonic (Silver)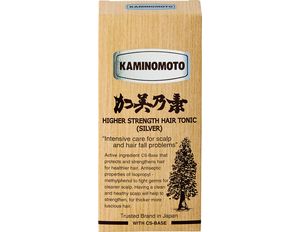 The next product we will discuss is Kamimoto Higher strength hair tonic (silver). According to their official website, they use a combination of well-balanced ingredients that work together to help promote blood circulation on the scalp, keeps scalp healthy and maintains the hair root function to prevent dandruff, itch and hair from falling out.
Their product is not sticky, oily and is very smooth to use, enabling easy and comfortable application. They use quite a number of key ingredients in their hair tonic, including Salicylic acid, Kamigen E and Kamigen K. Salicylic acid helps remove dandruff through its 'Keratine softening and dissolving function', and since salicylic acid has an antibacterial function, it also helps reduce dandruff and itch which is caused by bacteria that grows on the scalp. Hence, this is a very effective ingredient.
As for Kamigen E and Kamigen F, they promote and accelerate hair growth by encouraging cell metabolism and cell function of the scalp and hair root. They also help to promote circulation which can increase the amount of nutrients that the hair receives, which can promote hair growth. Additionally, the scent of the product is said to be refreshing due to its floral fragrance.
This product is also extremely convenient and easy to purchase in Singapore. Popular drugstores such as Watson's and Guardian carry this product so one only needs to find one of these drugstores to purchase it. And since these drugstores carry the product, it is very likely to be the legitimate product as they would have bought it from the manufacturers or some other licensed distributor. You can even get this product on Shopee here.
While most people say that this product is effective and that it is good value for money, as with most products, there are negative reviews as well. For example, in looking through the product reviews on amazon, it is very easy to spot the negative reviews. They generally write that this product, while it is cheap, has no effect whatsoever on their hair.
For some, their hair just remained exactly the same while for others it made their hair stiffer. Perhaps this then begs the question, what part of the manufacturing or sourcing of materials are they skimping out on in order to provide customers with such low prices? These reviews on amazon were also quite recent, with some of them being written in 2020.
However, these negative reviews were also only found on overseas websites such as the American version of Amazon and Ebay. Thus, one reason for these negative reviews could also be that this product was developed by the Japanese for likely Asian hair, and they might have also only done research on how well the product works on Asian hair. Hence, when Americans or Europeans use this product, it is less effective for them and it may have also cause some side effects that Asians may not have faced.
Bee Choo Origin Hair Tonics
Now we will look at Bee Choo Origin's hair tonic range.
Source: https://www.beechoohair.com
I am sure most of us would have heard of Bee Choo Origin before, but if you have not, here is a quick introduction of us.
About Bee Choo Origin
Bee Choo Origin was established and founded in the year 2000 by Madam Cheah Bee Chew, who was determined to find an affordable and all natural solution to address hair fall and scalp related issues. She started out in a small flat in Ang Mo Kio, Singapore, where she dabbled in natural remedies and when they worked, her customers encouraged her to expand and turn it into an actual marketable product. Subsequently, she received guidance and mentorship from various Traditional Chinese Medicine physicians and from there she learned, concocted, experimented and began to refine her products until she eventually came up with the famous and effective Bee Choo Origin products that we know and love today.
We have been established for over 20 years at this point, and with 21 outlets in Singapore and over a 130 outlets throughout the Asia Pacific region, spanning across 11 countries including Taiwan and Brunei, this proves that Bee Choo Origin is a reliable and effective brand as we are able to expand to so many outlets abroad.
Proven Effective as a Brand
Madam Cheah Bee Chew and our brand have won numerous awards over the years. In 2019 we were the finalists in the Readers' Choice Awards for hair loss treatments, and we also won the BeautyInsider.sg award in 2019 for the best hair loss and thinning treatment. This proves that our brand is very effective as these are relatively recent awards, which also proves that our brand's quality has remained the same over the years, enabling us to serve our clients with the same high standards that we started out with.
About Herbal Hair Products
Bee Choo Origin's herbal hair products are almost 100% natural and there are no added synthetic chemicals. We are also GMP certified and all our products are made in Singapore so you can be assured of our quality. They are also suitable for both males and females. Our hair care products and treatments can work for a myriad of hair issues, including covering white and grey hair, itchy scalp, dandruff, post-partum hair loss, general hair loss as well as oily scalp. In addition, our products are formulated and made in Singapore.
This helps us ensure that our products meet the needs of Asian countries as most of our customers are in the Asia pacific region. In Asia, most countries are hot and humid. This means that we would have a tendency to sweat easily, and the sweat will not evaporate fast enough due to the humidity in the air. This can cause oily scalp and clogged pores, thereby reducing the overall health of our scalp and hair.
Made for Asians, by Asians
In addition, people are usually told not to wash their hair everyday as this is not healthy for the hair due to the harsh chemicals in shampoo stripping away the natural oils and moisture from the hair. This causes hair to be even more unhealthy and weak as the sweat and oil can clog up the hair follicles for an even longer period of time. Hence, one other benefit of Bee Choo Origin's products is that it is formulated for Asians, by Asians, thereby ensuring that all our clients' needs are met.
We also conduct market research, based on the evolving needs and demands that our clients and the industry require, and have taken the feedback and improved our product over the years, reformulating our products to ensure that they provide much better results. In addition, we are constantly upgrading, based on the ever changing and evolving trends and expectations, we conduct research to ensure that our products are kept up to date and remain equally effective or more so.
As our products are almost entirely natural, this means that there will be much less side effects and irritation when you use them, especially if you are a first time user as your scalp and hair would not be used to our products. Hence, you can feel more reassured in using them.
Ingredients used in Herbal Paste and Products
Some of the ingredients that we use in our products include ginseng, he shou wu, ling zhi and dang gui. Ginseng helps in anti-aging and aids in new hair growth and regenerating, he shou wu slows down grey hair production and helps restore hair pigmentation. This is a very good all natural way for customers who would like a safe and effective method to cover up their white and grey hairs.
Ling zhi helps reduce itchiness and lowers the risk of infection. Our last key ingredients is dang gui, which helps regulate scalp immunity. Hence, Ling zhi and dang gui is extremely useful and effective as for some people, their cause of hair loss is due to bacterial infections. Having these two key ingredients together can help to reduce the risk of infections of the scalp and helps clients who have bacterial infections of the scalp address and cure their issue. 
Thus, this proves that Bee Choo Origin is very capable and is able to address a wide range of concerns that our clients may face. You can therefore be reassured in knowing that Bee Choo Origin's products are safe and effective, and that they help promote hair growth and ensures that hair grows out to be thick and healthy and is able to remain that way.
Procedure during Herbal Hair Treatment
At the start of your treatment, we will use a ginger hair tonic on your hair. In the treatment that you will receive in our hair loss treatment salons, this is the very first step, which can help prepare your hair for better absorption of the nutrients that the subsequent steps will provide. Afterwards, we will apply 100% pure virgin olive oil onto the ends of your hair to ensure that they remain silky smooth and that there are no split ends. Then, we will apply our specially formulated hair cream where it will be applied to the entire scalp and hair to ensure complete and maximum absorption for the optimal effect.
Afterwards, we will help you do a steaming treatment that lasts for approximately 45 minutes. This helps open up the pores in your scalp in order to remove any impurities there may be and ensures that the maximum amount of nutrients in our cream can be absorb. Lastly we will wash off and blow dry your hair. However, your hair will be left partially dry in order to enable there to be continued absorbance of our product into your hair over the next few hours. The entire treatment process will take about an hour and a half, and we hope that you will be able to use this time to relax with us.
This process also shows that our treatment is non-invasive, there are no injections, medications or pain as the entire process is all natural, and that it only requires a simple application!
Effective yet Affordable pricing
Now you might be worried about the price of Bee Choo Origin's products and treatment as they are very effective. No worries, as we pride ourselves on being very affordable and we want all our clients to be able to be confident in themselves and in their hair without having to burn a hole through their wallets. This also means that we are very price transparent and that whatever price that is written on our website or told to you by our staff is fixed.
There will be no hidden costs, or any hard selling or pushing of our products or packages on you, as we know how frustrating that is and we want you to be able to have a comfortable and relaxing time with us. So you will only need to pay for what you want, and the price will be fixed as they are.
For males, the cost is only $34, whereas for females, the price depends on the length of your hair. The price ranges from $36 to $64, where $36 and $40 is for short hair, $48 is for shoulder length hair, $56 to $64 dollar is for much longer hair and lastly for hair below the waist it is an additional $6. 
However, the actual price of treatment will be told to you by our staff in stores based on the length and thickness of your hair as well. There is also a complimentary scalp scan upon request. However, you can be rest assured because as mentioned before, our prices are fixed as they are with no hidden costs so you need not worry.
Source: https://www.beechoohair.com/services-page