In this blog post we will introduce a few Muslimah salons in Singapore for our Muslim friends who are looking for suitable places to do their hair at. We have included muslimah hair salons that include haircuts as well as those who only does hair treatments without haircuts in Singapore. These salons are found based on our own research, as well as derived and filtered from other website's own compilations of Muslimah salons.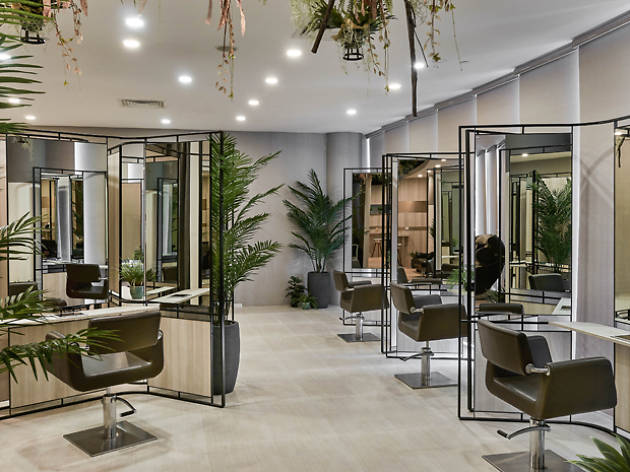 Source: https://media.timeout.com/images/103534244/630/472/image.jpg
Iffah Muslimah Hair and beauty salon
Firstly, we will introduce Iffah Muslimah hair and beauty salon. Based on their 'about us' page on their website, they were first established in 2003 by their founder Salmah A. At that time, she was working part time at another hair salon while juggling a full time job at an accountancy firm. She soon realized that there was a rising demand for Muslimah salons however there were not many salons that offered this. With this in mind, she actively pursued her dream to set up and own her own hair salons and this led to Iffah Muslimah hair and beauty being set up, to provide other Muslimahs with a safe place for their hair treatments and hair dressing needs. They provide 'comfortable and closed areas' for Muslimahs to undergo and enjoy their hair treatments. According to their website, they also write that hijab wearing ladies are more likely to experience unhealthy scalp conditions such as dryness, greasiness as well as dandruff. Hence, their research and product design team carefully selects and chooses the ingredients and specially manufactures their halal certified and organic products in order to ensure that their customers receive the best products that they can for their hair treatments or hair dressing needs. They also have their own brand of hair products that have received multiple positive reviews, such as the 'Energy hair revival tonic' and 'tea tree shampoo'. These are their best sellers as well, and we will discuss these products a bit more below.
Iffah Muslimah hair and beauty salon also offers a wide range of treatments and hair services that are suited to every clients needs. They have everything from hair styling to hair and scalp treatments, and even hair colouring. Their hair colouring services include K-gloss hair treatments and creative colouring, which are some of their clients most popular and favourite choices. In addition, their hair colours are all Wudhu and Ibadah friendly. The hair colours are made with good quality ingredients, enhanced with natural extract and is completely free from ammonia and paraben.
Now we will move on to discussing their products. Some of their more popular products include the Energy hair revival tonic and the tea tree shampoo which we have mentioned above. The energy hair revival tonic helps to activate hair roots, prevents early hair loss as well as helps to prevent dandruff and itching of the scalp. The tea tree shampoo contains tea tree oil and multi-plant extract, and it helps to soothe oily and itchy scalp, removes dandruff and strengthens the roots of the hair and lastly is also able to revitalize the scalp with a soothing effect. In addition, they have student pricing all year round. So long as you are primary, secondary, junior college, polytechnic and even a student from a local university and is under 22 years of age, you are entitled to this promotion. A cut, hair wash and blow dry costs $26 and they have scalp treatments and masks that cost anywhere from $50 to $88. This salon also has multiple outlets spread across Singapore, including Jurong and Tampines, which allows greater accessibility and convenience for their clients.
However, if you are not a student, a simple google search will reveal that on review pages such as facebook, the prices are actually quite high, however we were unable to find the actual prices. It is likely that the prices depend on the treatments and the length of hair that the clients have and so they are unable to quote a specific price.
On google reviews as well, there are some one star reviews, with people saying that while the stylists were 'friendly', they did not really know how to cut hair. This review from this client states that the hair cut only took 15 minutes for her which she was okay with, however, the hair stylist just took a pair of scissors and chopped it off at her shoulder. The layering work was done badly and the cut was so uneven that the client had to go home and trim it herself. The hair cut was also so badly done that it made her 'lose confidence so badly' that she 'broke down a few times' because of how bad it was. Afterwards, the client even went to search up some reviews and she found out that there were other clients who had a worser experience than she did.
Another client also wrote that while the staff were 'friendly', they were 'inexperience' and that they 'quoted a price that is far to expensive for the end result'. The client wrote about her disappointing experience at the salon, where the hair cut was uneven and the client's mum's hair was cut much shorter than what they decided on, however the salon still charged them the long hair pricing and additional cost for having a senior stylist cut their hair. The treatment that the client's mum asked for was also badly done. As for the client herself, she wrote that the products used were not good as during the application process, the product made her eyes sting. However, the salon still charged them a high price for the product and treatment. In the end the pair were charged $500 however they did not believe that it was worth the money.
There was also one more client who noted the speed of the cut, as hers was only 10 minutes long, yet it was nothing like the hair style in the picture that she had shown the hair stylist. Hence, while this salon has multiple good reviews, not all of their services are worth the money, and some of the hair stylists as well seem to be inexperienced. Some of these reviews were also very recently written; just a few months ago. Overall maybe a lower price could be charged instead for hair cuts that do not meet what the clients want. This salon is also quite expensive so for potential clients who are on a budget and looking for more affordable options, this is not likely to be the salon you would choose.
Faredah Muslimah
Next, we will look at another muslimah hair salon, Faredah Muslimah.
This salon is a ladies only salon and it was founded in the year 2000. As written on their facebook page, they cater to the needs of Muslimah ladies' who require privacy when going for hair treatments as well as beauty related treatments. Some of the services that they provide include regular hair styling and hair cuts, rebonding treatments, argan oil hair masks and keratin treatments. The founder who is known to her customers as Kak Faredah, also offers a lot of advice and tips on how to take care of hair. There are also multiple reviews on their facebook page, with most customers talking about how the founder herself gives very good hair care tips, she cares genuinely for her customers and has great service and is very experienced, and her services are affordable too.
However, the reviews found on their facebook page, while they are good, are not very recent. There are not a lot of reviews and even the most recent ones are from 2019, while the rest of the reviews are from 2017 and 2018, with some of them even going as far back as 2013. They do not have a website and instead they operate through a facebook page and Instagram. Appointments have to be made through their social media accounts or through a phone call. This lack of a website instead makes it quite difficult for people to navigate, as it becomes a bit more tricky for people to find out immediately what type of treatments and services they offer, as well as the prices.
We managed to find a price list on their facebook page however when we tried to click in to see the full set of services and prices offered, the page was unable to show. Hence, maybe a website would be better for such services. In addition, especially for people who do not have facebook, it becomes much harder for them to understand how to use facebook just to find the information that they require. There is also only one outlet in Singapore and that is at Bedok. Hence, it is likely to be quite out of the way for most of us, especially for those living in the west of Singapore. Thus, this salon is not the most convenient or accessible.
Karva Salon for Ladies
The third muslimah hair salon we will introduce is Karva.
Karva has multiple outlets in both Malaysia and Singapore, and it is committed to providing 'affordable luxuries' to customers in both regions. Additionally, they are an all ladies salon, which therefore affords privacy and comfort to all females. Karva gained its success and popularity mainly due to the fact that is is able to serve Muslimah women as it is an all ladies salon. They are able to provide for the 'underserved market of beauty services' for Muslimah women, who are seeking out more and more complex and sophisticated services and treatments. Hence, the popularity of this salon was spread through word of mouth.
According to their website, Karva has seen 'throngs of repeated customers' who are there with their family or friends for meet ups and gatherings over 'memorable and beautiful #karvadate'. As for the services that they provide, they have a highly professional, capable and motivated team of Stylists, Scalp consultants and nail therapists, who are committed to delivering 'excellence in service at the highest level'. Their salon also uses high quality products, treatments, techniques and equipment from Europe, including countries such as France, Germany and Italy. Products from these countries include Coty's professional beauty products such as Wella, System Professional and Nioxin. In addition to the high quality and excellence that they promise their clients, clients are also treated to a complimentary selection of beverages which include premium teas. There is also a prayer section and a play area that is also available for guests with children to use while waiting for their mothers at selected outlets.
We were able to find a price list on their website. Generally, we can see that that the prices of their services such as cuts, styling services including a wash and blow or updo styling, colours and highlights, rebonding and curls are all of the typical prices that one would expect to pay at a salon. For example, their hair cut prices range from $45 to $55, depending on who is cutting your hair. A regular hair stylist would cost $45 while the creative director's hair cut would cost $55. The price for the wash and blow is the same, where it ranges from $30 to $45, depending on who is performing the service for you. A regular hair stylist would cost the cheapest, at $30 while the creative director's skills would cost $45. They even have kids and student pricings. The kids pricing is 50% off on all non promotional items and it is only for children aged 7 and below, while the student pricing is 30% on all non promotional items, and it is only applicable for students aged 16 and below. As for colour and hair rebonding, they all range from $80 to $140, $160 to $240 respectively, while the hair perming service costs anywhere from $90 to $400, depending on what type of hair perm service that one wants. Not only that, they even have hair and scalp treatments for clients who would want such treatments.
They have multiple types of hair and scalp treatments available for all different kinds of needs, however, we will only mention the cheaper ones and the more relevant ones here. For the hair treatments, the cheapest is the $60 Kerastase K-water treatment. This 'resurfacing lamellar treatment' helps to achieve amazingly lightweight, shiny, glistening and 'fluid hair'. This can immediately transform the hair to ensure that it does not weigh you or your hair down. The last hair treatment we will look at will be the anti hair loss treatment. This is known as the Kerastase genesis anti hair fall treatment and the price ranges from $150 to $210. The Genesis is the first to treat every type of hair fall; from breakage of the hair due to fiber breakage, and hair falling out at the roots due to weakened hair and hair follicles. Hence, this treatment is suitable for all women with all different types of lifestyles and with all different types and degrees of hair fall.
Next, we will look at their scalp treatments. While there is the relatively affordable $80 Kerastase essential fusio scrub that helps to deeply cleanse and exfoliate the scalp in order to reduce dandruff, for potential clients looking for something that can help their hair loss it will likely not be this one. A more effective option would likely be the Kerastase scalp ritual which is priced at $125. This hair loss treatment is an intensive scalp ritual that helps improve scalp health by dealing with issues such as 'scalp sensitivity, itchiness, dandruff, hair loss and oily roots. This treatment is designed to produce a well-balanced scalp and allows the client to achieve their perfect hair. Alternatively, another treatment for hair loss would be the Kerastase fusio scrub luxury ritual, which will set you back $140 to $200. This ritual consists of three parts – scrub, scalp masque and hair mask. The scrub helps to unclog pores and exfoliate and deeply cleanse the scalp. Then the scalp masque helps prevent a dry, oily and itchy scalp, as well as hair loss. Lastly, the hair mask allows for deep conditioning of the hair which can reduce breakage and strengthen hair.
If one chooses to colour their hair, they can also be rest assured as the hair dyes used at Karva are Wudhu friendly as well. Their hair colours are water permeable and is made using plant based ingredients. In addition, they have outlets located throughout the island of Singapore, including Northpoint city at Yishun, JCube shopping centre in Jurong and Bussorah Street.
However, the prices of this salon for hair treatment are not very affordable but they can be rather expensive. Hence, if you are looking for an affordable salon to go to this is probably not an option that you can consider. Furthermore there was a review by this client who went to Karva for their royal spa ritual and luxury hair spa, however she did not find the price of the treatment worth it for the quality she got. She wrote that her overall experience was only 2/5, and that the royal scalp ritual did not live up to her expectations. Her scalp was massaged for only 10 minutes and after that the attendant just left her there for 40 minutes. She also wrote that she had experienced better head massages at other cheaper salons. At the end of the treatment she also stated that the blow drying techniques employed were not as efficient as she had thought. In the end she concluded with saying that the effects of the hair treatment was hardly visible, and that the place was overrated. Overall the experience was not bad, however it was not worth the price that she had paid for it. Hence, while this place definitely has its benefits, it is also not the most affordable option and based on what the review wrote, the treatments at the salon may not live up to the prices stated as well.
Empire Charme Salon
The next salon we will look at is Empire Charme Salon. Empire Charme salon is a modern salon that provides multiple types of hair and scalp services, depending on the clients needs. They have a team of professional creative stylists and scalp specialists who are ready to prep and serve clients, allowing the clients to become confident through hair cuts and hair styles, colouring on of hair and other services as well.
According to their website, they believe that healthy and glowing hair begins with a healthy scalp. Which is why they have created their own set of hair and scalp care products known as URBANE to help deal with and resolve specific hair and scalp concerns from your own home. This came about due to the success of their highly popular salon treatments. They also believe that caring for one's hair should not end the moment they leave the salon. For long term effects, one should also consistently take care of their hair. Hence, their range of products helps to address the root of most hair problems, which is an unhealthy scalp. Their products, which are made of 'a unique blend of hair densifying plant based extracts' are both gentle on the hair yet effective. These products help to 'active hair follicles' and 'strengthen hair immunity', as well as help clients achieve 'beautiful, healthy hair'. In addition to everything mentioned, they are also a hijabi friendly salon. Empire Charme salon aims to offer a positive hair salon experience for everyone. Hence, they have dedicated and sectioned out areas of the salons with curtains in order to give Muslimahs privacy for their treatments and styling. Clients simply have to indicate that they would like this option when they make an appointment. The hair salon also offers halal certified hair colours for Muslimahs who wish to dye their hair.
As mentioned above, their URBANE product series consists of 'hair densifying plant based extracts'. According to their website, these plants include ginseng root extract, lavender oil, tea tree oil and eucalyptus spearmint, which can help with addressing scalp and hair related issues. In addition, their popular root revival essence contains Panax Ginseng Root sage leaf extract, rosemary leaf extract and nettle extract. These active ingredients help to stimulate hair follicles in order to enable healthy hair growth. These ingredients are also rich in antioxidants, and their unique formula helps strengthen the scalp's natural protective barrier and delays the scalp's natural aging process.
However, there are quite a few negative reviews. Generally the negative reviews state that the stylists there seem to have a tendency to 'blame the client' when their hair cut or hair treatment does not go well. For example, this client wrote that the hair cut was not to her liking however the stylist kept telling her that it was and that that was the best the stylist could do. In addition, the client's hair type was to blame for not getting the hair style she wanted. Another client also had a similar experience. She wrote that her first experience went badly because the hair cut was not to her liking and they shamed her for having thick hair. However, a year later she decided to try again yet the staff there was completely unconcerned with her and her enquiries, providing only one word answers each time she asked something. Hence, this shows that Empire Charme does not have very professional staff and some of them might be very inexperienced as well. Most clients would also not be able to tolerate such rude staff.
Keeping everything written above in mind, let us now look at Bee Choo Ladies.
Bee Choo Ladies
We are sure most of you have heard of Bee Choo Ladies, or at least Bee Choo Origin before but if not let us give you a quick introduction.
Bee Choo ladies is the only outlet out of the entire Bee Choo Origin franchise that is dedicated to serving and treating ladies only. We are a hair and scalp treatment salon that is designed exclusively for females only so you can rest assured as this means that we are specialized in treating women's hair and scalp issues. We would also have done the necessary research and have the relevant expertise to help women who are suffering from hair or scalp related problems. This is proven as we are known as the best hair loss treatment salon for ladies in Singapore. As we are an all ladies salon, muslim women can come to us for any hair related woes. Our salon is divided into two sections, one open area section and one private curtained off section for muslimahs. There is also a prayer area that is open to customers and staff only.
The unique thing about Bee Choo ladies is that all their products are all natural, and that no chemical treatments or services are offered. For instance, we do not offer colouring of one's hair, rebonding or perming services. There are also no traditional hair dressing and hair styling services available here. Instead it is all about tackling hair loss related issues and addressing greying hairs, dandruff and other hair related issues.
Bee Choo ladies is a household brand name, founded in the year 2000 by Madam Cheah Bee Chew herself. She and our brand have won numerous awards and accolades, which include the Singapore Prestige brand award in 2015, the Singapore Heartland Enterprise Star award 2016, and the Golden Eagle award for the top 100 enterprises in Malaysia in 2014 which shows that we are not just well recognised and popular in Singapore, but abroad as well. We were even featured in the Business Times, with the articles 'power of testimonies drives business growth' in 2016, and 'Sincerity before profits' in 2017. Hence, regardless of where you move to or travel to in the future, you can be assured that Bee Choo Ladies will be there too for your every hair need.
We have been established for over 20 years at this point, and with 21 outlets in Singapore and over a 130 outlets throughout the Asia Pacific region, spanning across 11 countries including Taiwan and Brunei, this proves that Bee Choo Origin is a reliable and effective brand as we are able to expand to so many outlets abroad. Every year we serve millions of happy and satisfied customers with proven results that are effective yet affordable. We are well known for providing affordable and effective scalp treatment, oily and itchy scalp treatment, dandruff treatment post natal hair loss and other related hair and scalp issues.
Bee Choo ladies herbal paste and products are almost entirely natural as we only use herbal and plant based product and ingredients. Bee Choo origin's herbal hair treatment is all natural, with no synthetic chemicals, GMP certified and is made in Singapore so you can be assured of its quality as it is locally made. Hence, this shows that our process and treatment is entirely safe as everything is natural. The lack of chemicals used in our products and treatments also ensures that there will be no strong, pungent smells and there is likely to be less side effects as well as irritation, which will make the whole experience much more comfortable. What's more, there are no injections, medications or pain as the process is all natural and only requires a simple application.
Our herbal hair loss treatment is consistently rated the top hair loss treatment in Singapore for women. Our entirely natural, safe and extremely effective herbal hair loss treatment is able to help address dry, itchy or oily scalp related issues, and provide scalp with instant rejuvenation and nourishment. The natural dye that is present in the treatment due to the herbs and plant extract that we use in our products also provides an all natural solution for ladies who wish to have a safe and and effective method to cover their white or grey hairs. This natural dye is similar to henna so ladies can feel more assured when doing this treatment.
The treatment process only contains 4 step which is very simple.
Firstly, we will apply our hair tonic to your scalp in order to prepare your scalp to absorb the nutrients from the products that we will use in the subsequent steps. Next, we will apply our herbal paste to your scalp. Afterwards, we will steam your hair for about 45 minutes, depending on the condition of your hair. Lastly, we will then rinse off the herbal paste, provide a scalp massage and condition your hair. This treatment should last for about an hour and a half and we hope that you will be able to use this time to relax and enjoy with us.
As mentioned above, our hair treatment is able to tackle multiple hair problems, including itchy scalp, dandruff, post-partum hair loss, different types of hair loss as well as oily scalp. The different types of hair loss treatments that we cover include bacterial infections, fungal infections, dandruff and even Alopecia Areata. Thus, Bee Choo ladies is able to provide treatment for any possible hair related issue or hair loss issue that you may have.
The natural, herbal ingredients used in our treatment include Ginseng and Dang Gui, which for those of us who have been to Traditional Chinese Medicine shops and have taken some of their products before, know how important these ingredients are to ladies. For example Ginseng is able to help warm up the body which is essential for women, and Dang Gui can help in blood circulation. Hence, ladies can relax as they already have the knowledge that these items are good for them. In the case of the hair treatment, Ginseng is used for anti-aging, and it helps in new hair cell regeneration. Dang gui helps regulate scalp immunity, therefore preventing more hair from falling out, and allows for improved blood circulation, therby allowing more oxygen and nutrients to reach the hair, which can promote hair growth. Some additional ingredients used in our treatment include He Shou Wu, which helps slow down grey hair production and restores hair pigmentation; this is perfect for ladies who would like a natural solution to cover up their grey hairs, and Ling Zhi, which reduces itching and decreases the risk of infections. Hence, ladies can be comfortable and confident in their treatment as these are all natural ingredients which are good for them and the health of their scalp and hair.
After reading about all these and the effectiveness of Bee Choo Ladies' treatment and our products, you may be worried about the prices. However, do not worry as we pride ourselves on keeping things affordable and we want all our clients to be able to be confident in themselves and in their hair without having to burn a hole through their wallets. This also means that we are very price transparent and that whatever price that is written on our website or told to you by our staff is fixed. There will be no hidden costs, or any hard selling or pushing of our products or packages on you, as we know how frustrating that is and we want you to be able to have a comfortable and relaxing time with us. This is because for most of us, the thought of going for hair or scalp treatments is very intimidating. Other than the fact that it is your first time there, the prices are also very intimidating. Despite the attractive packages written on the websites or pamphlets distributed on the streets for first time users, promising a $20 to $50 treatment that is normally worth anywhere from $600 to $800, there are usually hidden costs involved. The moment you step foot through the salon doors, even though the staff there know that you are only there for a one time trial, they tend to continuously and aggressively push their products or packages on you. This can make the whole treatment process uncomfortable, and may even deter people from coming again.
However, this is not the case at Bee Choo ladies, as attested to by one of our happy and satisfied customers Allana. She said that during her treatment the staff there did not 'hard sell', and that we 'don't push you', which is very reassuring to hear, as you would then be able to enjoy your treatment without the stress of extremely aggressive sales people pushing unwanted products on you. You need only pay for what you want and require, and at Bee Choo ladies the prices are simply fixed as it is, ranging between $41 to $69 depending on your hair length. $41 is for shorter hair while $69 is for much longer hair. However, the actual price of treatment will be told to you by our staff in stores based on the length and thickness of your hair as well. There is also a complimentary scalp scan upon request. However, you can rest assured because as mentioned before, our prices are fixed as they are with no hidden costs so you need not worry.
Source: https://www.beechooladies.com.sg/wp-content/uploads/2018/06/price-list-.png
Additionally, our products are also set at very affordable prices. Our hair care products range anywhere from $2 to $62, which is much lower as compared to other hair care products sold by other hair loss and scalp treatment salons out there. For example, our popular hair tonic, the Origin Herbal Hair Tonic which has a unique blend of precious and exotic Chinese herbs, and is able to help with accelerating hair growth and controls hair loss, only costs $62. And while this is the most expensive thing on our product list, it is still much cheaper than a lot of hair treatments out there, and for some, it is even cheaper than their one time consultation or session. Thus, this price transparency and affordability afforded by Bee Choo ladies is a huge plus point and swaying factor for potential customers.
In order to further convince you that Bee Choo ladies is the best at what we do, we will introduce some real customer testimonials. Let's look at Miss Karen's case. She came to Bee Choo ladies with a recurring patchy hair loss issue affecting the crown of her head. After coming to Bee Choo ladies and entrusting her hair to our talented and knowledgeable staff, it only took her three months and 10 treatments to recover from her hair loss. She notes that 'Bee Choo ladies treatment is quite straight forward, and the prices are reasonable and affordable.' She also mentioned her past experiences at other hair salons that cost over $3000 but were not as effective. Hence, this proves that our treatments and products are indeed efficient and effective. What's more they are very affordable, with prices that most other hair salons or hair and scalp treatment places are unable to beat. Thus, this also shows that we are able to live up to reputation and goal of providing effective and affordable hair treatments for all females.
Let Bee Choo Ladies assist you with any hair related issues today!